Jim Morrison arrived in Paris in March, 1971, joining his longterm girlfriend Pamela Courson. Behind him lay a meteoric, if not somewhat controversial rise to rock stardom. However, the figure that arrived in The City of Love, was a far cry from his leather-clad, Lizard King glory days when hits like Light My Fire topped the charts. Prior to his move to Paris, Jim had had fallen foul of the law in Florida, with charges of 'lewd and lascivious behavior' still hanging over him two years after a performance there. Furthermore, he had become deeply disillusioned with his career, and the toll that his celebrity status had taken on him.
However, in Paris Jim began to put these issues behind him and looked to forge a new career as a poet. Living mostly in a an apartment on Rue Beautrellis, in the Le Marais district. According to accounts, Jim spent much of his time wandering the boulevards of the city, and hanging out in such classical watering holes as Café de Flore and La Coupole. He also renewed his acquaintance with old friends, such as the film-maker Agnès Varda, and journalist Hervé Muller.
His stay in Paris was punctuated by brief excursions to Corsica and Morocco.
On the evening of July 3, a series of events unfolded in the apartment on Rue Beautrellis that would forever cast a shadow of mystery over the singer that would persist to this day. In the early hours of that morning, Pamela discovered Jim dead, having apparently died while taking a bath. A doctor was called, but he quickly confirmed that singer was deceased. No autopsy was conducted, and Jim was immediately placed in a sealed coffin. The only people to actual witness his lifeless body were Pamela, the physician, several first responders, and the undertakers who attended. The official cause of death listed on his death certificate was 'Respiratory Failure.'
Four days later, Jim was interred in Père Lachaise cemetery on the outskirts of the city in the most simple of ceremonies, with only a handful of mourners present. It was two days after that when the media, and the world at large, finally learned of the demise of Jim Morrison. A week had almost passed since his death.
Ironically, Jim had visited Père Lachaise on several occasions during his stay, eagerly seeking out the graves of Balzac, Bizet, Oscar Wilde and Edith Piaf. His name joined that list of creative, and often troubled luminaries to whom Père Lachaise became a final sanctuary.
Not surprisingly, with so few details surrounding the singer's death available, conspiracy theories have abounded. Some sources claim he died of a drugs overdose at the Rock 'n' Roll Circus, a sleazy nightclub on the Left Bank, and was dumped back at the apartment to avoid any kind of police investigation. There are others who even claim that Jim Morrison did not die at all, but simply shed his old skin, like the Lizard King, to start a new life elsewhere.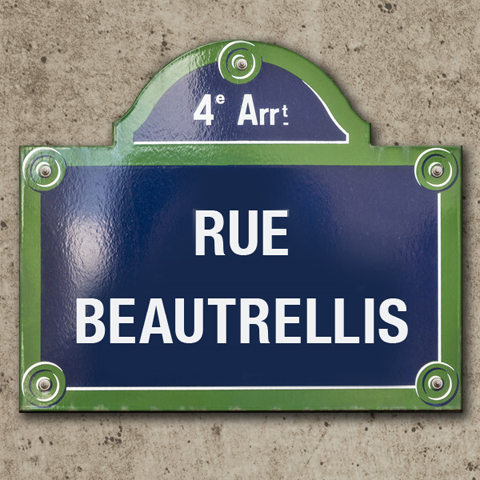 RUE BEAUTRELLIS STREET SIGN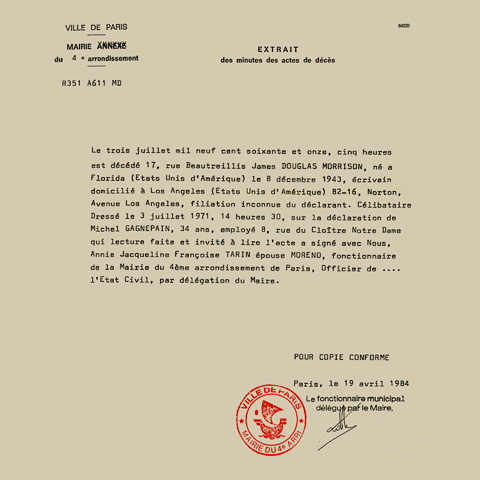 THE OFFICIAL DEATH CERTIFICATE OF JIM MORRISON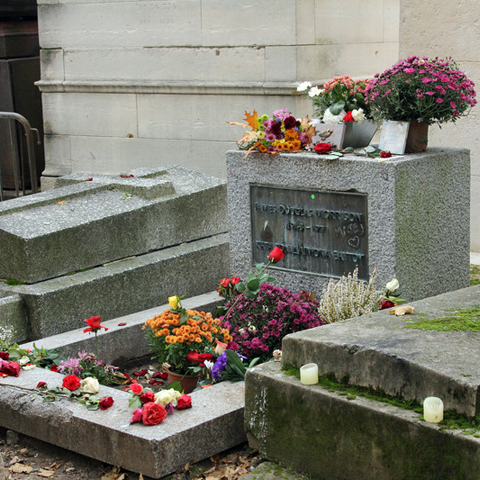 THE GRAVE OF JIM MORRISON TODAY