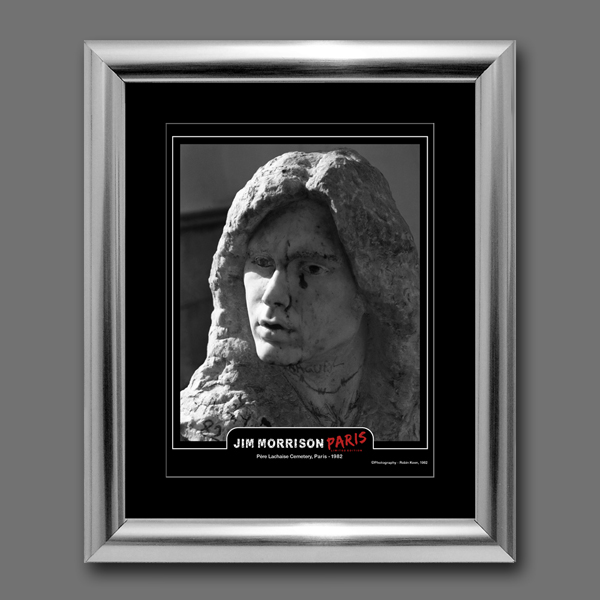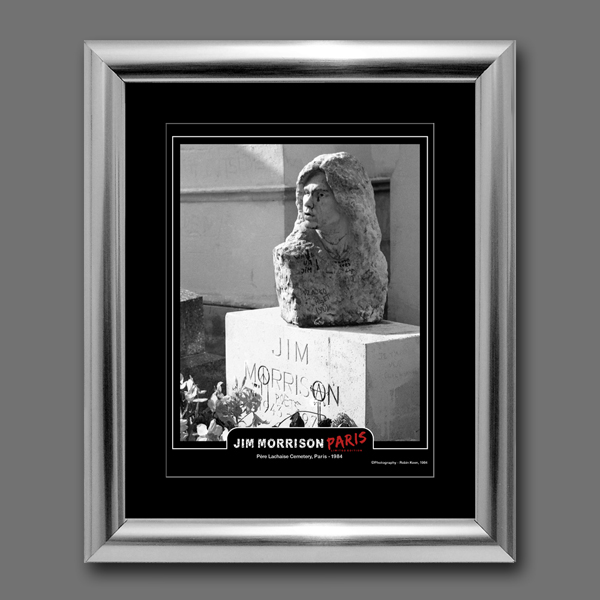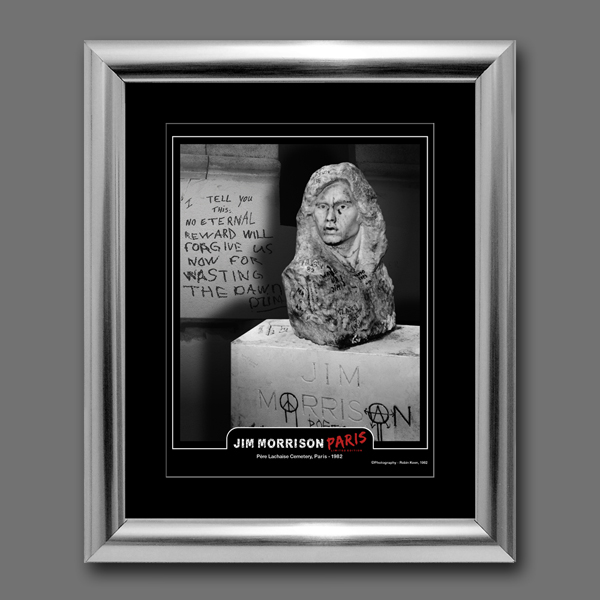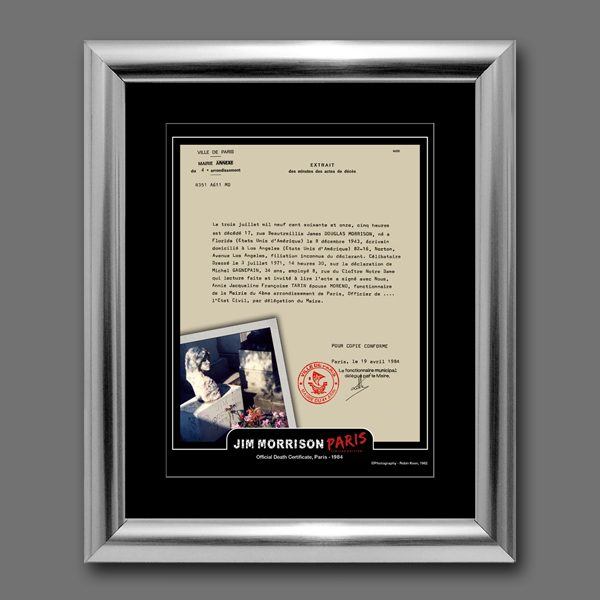 This signed and numbered Paris Limited Edition collection of 5 Fine Art Prints is a must for all Jim Morrison fans worldwide. The series of photographs was shot in early 1982 by a young film-maker and photographer. Other photos from the shoot were sold through a major record chain in their stores worldwide in the mid-Eighties. Now, nearly four decades later, these rare and unseen gems are available in this Limited Edition set of Fine Art Prints. Shot on a professional 6x6 format camera, they capture all the details of the shrine as it was in its full glory.
Jim Morrison in Paris
Jim Morrison (a.k.a. The Lizard King) was without doubt one of the most creative and controversial figures of the '60s music scene. As frontman of The Doors, Jim racked up a string of groundbreaking hit albums and iconic live performances. In doing so, he transcended the normal realms of Rock 'n' Roll and became that most rare thing, a cult figure, a legend. Tragically, in the Summer of 1971, while on a lengthy retreat to Paris, Jim Morrison died, though there are those who still doubt the veracity of that fact. Whatever the truth, there is no denying the musical legacy that Jim left, one which still inspires a multitude of artists to this day, and has attracted generation after generation of fans.
Jim was laid to rest in the hallowed groves of Père Lachaise Cemetery in Paris, along with such artistic notables as Bizet, Chopin, Molière and Oscar Wilde. The singer's initial presence there was relatively undistinguished, though that all changed on the 10th anniversary of his death when a strikingly lifelike monument to him was erected and immediately became a focus of global pilgrimage. However, in 1988 the monument mysteriously vanished and appears lost forever. The Paris Limited Edition series captures the shrine in what was perhaps its most classic state, as in the latter years prior to its disappearance the monument was increasingly vandalized by over zealous fans and became a somewhat grotesque ruin of its former self.
For those who made the pilgrimage during those heady early days, this Limited Edition series captures the atmosphere perfectly, and for the many thousands who still to this day make their way to that mystical corner of Père Lachaise, it offers a dynamic insight into the shrine's former 'glory days'.
The Photographer
The Photographer's own account of the shoot describes the experience best and is guaranteed to revive many memories....
"It was a bright February morning in 1982, when our small film crew arrived at Père Lachaise. After trekking through the maze of boulevards that makes up this surreal necropolis, the shrine finally came into view, the almost living effigy of Jim splashed with morning sunlight as it stood huddled among a more ancient collection of grand tombs. The white stone bust had only been there a matter of months, and while a certain amount of fan graffiti had already been added, it was in a relatively immaculate state compared to the grotesque article it would soon become. Due to the early hour, the place was deserted and there was a strange yet welcoming sense of peace and familiarity. A stray cat soon joined us, and after brushing past several of the crew by means of introduction, found its perfect spot in the sun. A short while later, a couple of girls appeared, typical Dutch bohemians, as I recall, bearing flowers, blue hyacinths, which they reverently placed by the monument before settling down nearby in a mood of contemplation. As the morning passed, more and more people, individuals, couples, with accents that hailed from all corners of the globe, converged around the shrine. Some quietly knelt to place lit candles or incense on the monument, while others simply just found there place. Several bottles of wine appeared, and were freely passed around. One guy pulled an old cassette player from his backpack, and clicked it into life... The Crystal Ship is being filled....
A ritual was unfolding - A Feast of Friends."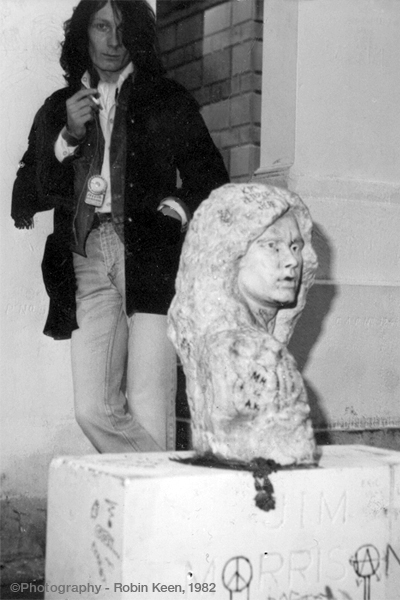 The Photographer - Père Lachaise Cemetery, Paris - 1982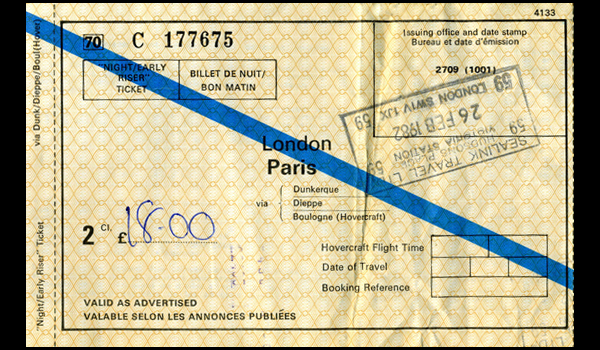 The cost of the Jim Morrison Paris Pilgrimage in 1982
Surviving Members of The Doors at Pere Lachaise, 2011
Jim Morrison - Paris Guide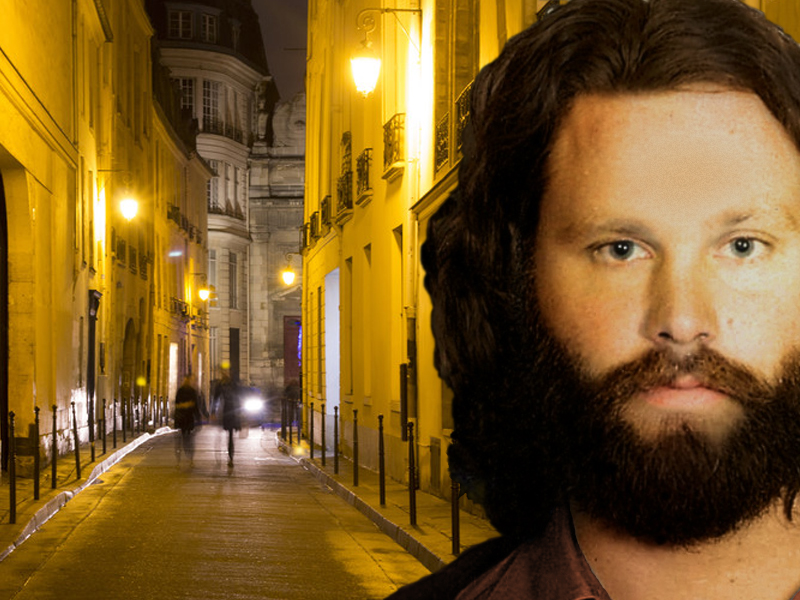 Jim Morrison arrived in Paris in March, 1971, joining his longterm girlfriend Pamela Courson. Behind him lay a meteoric, if not somewhat controversial rise to rock stardom. However, the figure that arrived in The City of Love, was a far cry from his leather-clad, Lizard King glory days when hits like Light My Fire topped the charts.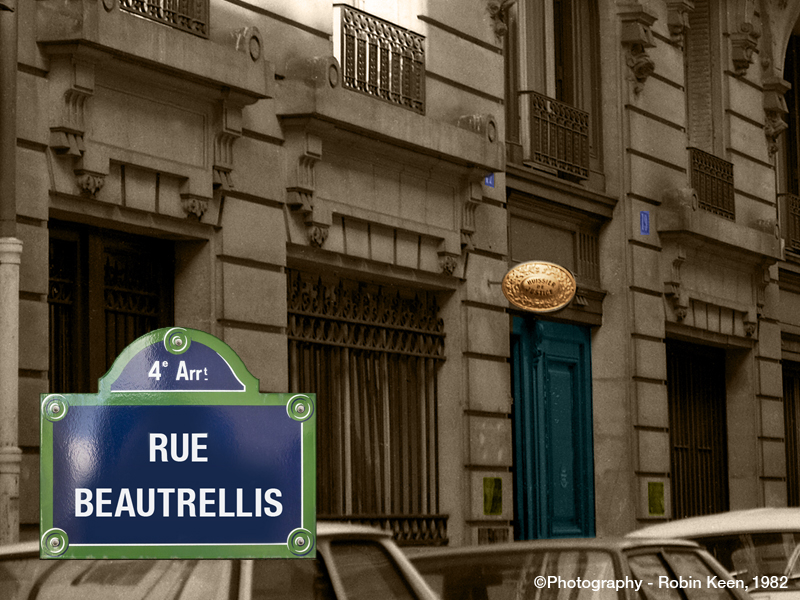 After Père Lachaise, the other most popular location on the Morrison Paris pilgrimage is without doubt the apartment where he lived in Le Marais. Number 17 Rue Beautrellis, a building with a grand facade that is nestled down a quiet sidestreet, plays a significant role in the drama that unfolded in the Summer of '71.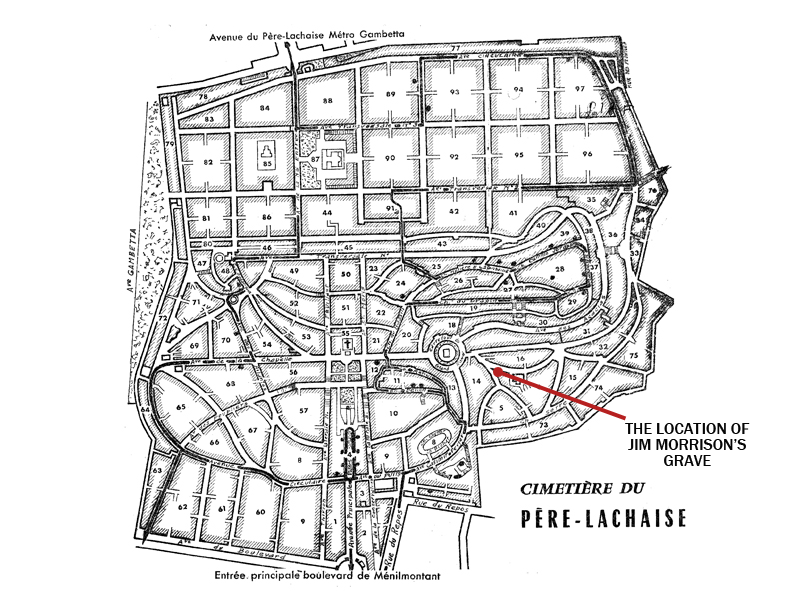 For those fans unfamiliar with Jim Morrison's final resting place in Père Lachaise Cemetery, their first visit can come as something of a shock. For Père Lachaise is unlike any other graveyard they are likely to have encountered. Its scale is comparable to that of a city.